There's a famous saying which says that life begins at 40, so when you've reached this number make sure to celebrate the party of a lifetime by inviting your family, relatives, closest friends, office mates and even your big boss. For all the past years, you deserve something great so give yourself a pat in the back and organize the most awesome birthday party for the year. What are the best birthday themes and entertainment ideas for your 40th? Read on.
1. Burlesque Queen
Why not take things high up a notch? Well, we mean by making your 40th party a little bit sexier and kinkier. And what better way to make your birthday entertainment extra fun and exciting? Well, by having a music to strip to with the classic burlesque and strip tease playlist. Forget about playing these songs through spotify for it will be even a better idea to have an entertainment band to provide your music needs. Also, don't ever forget to hire sultry burlesque stars to set the mood and make the jaws of your men drop to the floor.
2. Safari-inspired ala Jane Porter from Tarzan
We know you've been eyeing this theme for quite some time so why not put your ideas to good use by organizing a safari inspired birthday party? It's time to put on those flirty leopard-printed dresses and enjoy with your girl friends. Let the party come alive with an entertainment band that knows how to get the grooves of your guests by sending them straight to the dance floor! A perfect song to dance to is "The Animal Song" by Savage Garden. Get flirty and cheeky with your birthday entertainment and don't be afraid to have some wild, free fun.
3. Great Gatsby
Time to put on that sparkly flapper dress you've scored from a vintage shop down the street! Oh oh, your lovely friends will definitely love to show up on your party all dressed up with their feather headbands, rhinestone head wraps, and art deco hair comb. For that instant birthday entertainment wow factor, make sure to have a party band ready to play the great jazz music of the 20's.
4. Super Heroine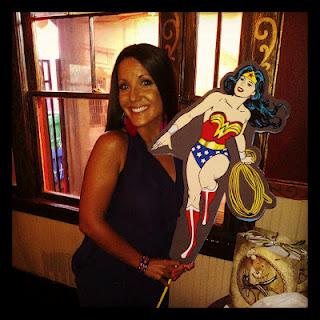 Okay pretty woman deserve to be called the modern Wonder Woman. You deserve to have the best action-packed, fun-filled super hero birthday party ever and you deserve all the best that this life has to offer. Forget about the preparations, the cost and your worries for you will surely have a great time partying with your other super hero friends. For your birthday entertainment, call on our super party band from Undercover Live Entertainment for they will definitely give you the best performance.
5. Bollywood-inspired dance party
Bring the colorful and vibrant hues, rich culture and traditions of Amazing India to the US with a Bollywood inspired celebration. Make sure to turn your venue into an Indian labyrinth by draping it with brightly colored and vibrant fabrics. The elephant designs are also necessary for they add a sense of cuteness. For that ultimate birthday entertainment, hire belly dancers and even fire dancers! Ohh, don't forget to hire a live entertainment band to cap off your wild and raucous night.
6. Old Hollywood Glamour
Who doesn't love the classic act of Audrey Hepburn? Well, probably no one. If you have a thing for the past, this one is a great birthday theme for your 40th as you get the chance to wear your favorite LBD matched with your opulent white pearls and paired with your classic red matte lipstick. Relive the days of yesteryear's by having a fun and lively band to entertain your guests with the best music of the day.