Here are some garden wedding decoration ideas to inspire.  These are perfect for your Wedding Arch, Wedding Isle, as well as Wedding Reception Decorations during the day and or night.
Wedding Arch and Aisle Decorations
Wedding arches and aisles have to be one of the most photographed elements in any wedding ceremony. From the time when the bridesmaids, ring bearer to the bride herself walking down the aisle, up to when the couple exchange vows, to their first kiss as husband and wife all the cameras will spontaneously capture all these moments. The arches and aisle, if decorated well, will absolutely make the bride feel like a princess that deserves all the pretty things in the world for the one special moment of her life. Take a look a look at these gorgeously constructed works of art that you might want to fit in on your garden wedding decorations ideas:
WEDDING ARCH
1. Focus on one side of the arch and fill it with flowers.
2. Simple yet sophisticated look which gives you a better view.
3. Crystal drapes makes you feel like a whimsical princess.
4. Overwhelm yourself with flowers on your wedding arch.
5. Curly willow arches for a magical feeling.
WEDDING AISLE
1. To add more garden feel for your garden wedding decoration ideas, hang a bucketful of flowers on the aisle chairs.
or a bottle full!
2. Line the aisle pathway with flower petals.
3. A simple way to decorate the aisle is to just hang tall flowers with leaves in the aisle chairs.
4. A clean look for the aisle is to wrap the aisle chairs with white cloth.
5. Place jars of flower bouquets along the aisle for a flower power touch.
Wedding Reception Decorations During the Day and Night
Garden Weddings offer a unique feel to the celebration. Having to celebrate your wedding in a garden is already as beautiful as it is. You and the guests get to enjoy the nature around and the natural lighting it provides. Besides that, another good point to consider is that it can cater to both the wedding ceremony and reception. Here are unique ways to decorate your wedding reception venue:
1. Go for a light look by having neutral colored table cloth and centerpieces.
For the night, lampposts with hanging chandeliers since it will make the place look more elegant than it already is.
2. Suspend white lanterns over long tables for a bubbly wedding.
At night, these lanterns can be switched on for a more magical look on the wedding venue.
3. Hang huge bulbs and crystal balls with candles inside to lighten up the evening.
4. Make a whimsical princess feel using light blush colors and pretty-looking chandeliers.
With the chandeliers hanging, this wedding reception will make everyone in amazed by how magical and whimsical this reception looks like. Much more when they open the lights.
5. Use candelabra as centerpieces for your garden wedding.
Your wedding will look magical once the dark sets in and the candles from the candelabra are lit.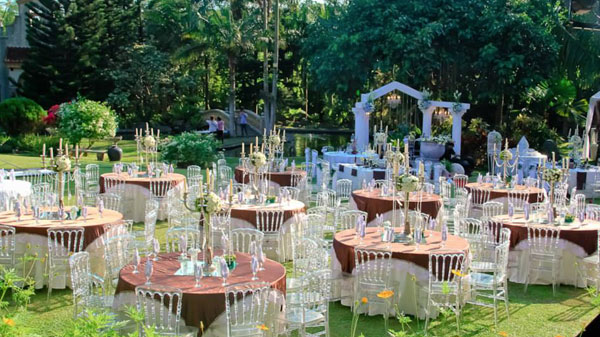 Hopefully you have come away with some great ideas to inspire you or share these garden wedding decoration ideas.  Next on your list should include complimentary entertainment for your wedding reception.  Check out what Undercover Live Entertainment has to offer! (click below)