Women out there with a mermaid heart, the only perfect way to celebrate your Mermaid Beach Wedding is by the beach touched with a little bit of a mermaid theme.
Ever dreamed of having that whimsical yet dreamy Beach Wedding with a hint of mermaid theme? Here's 9 ways on how to pursue your Mermaid Beach Wedding ideas:
1. Spread the mermaid feel to your lovely bridesmaids. 
In order for your bridesmaids to feel like they also belong to the sea why not clip a tiny starfish to their bouquets?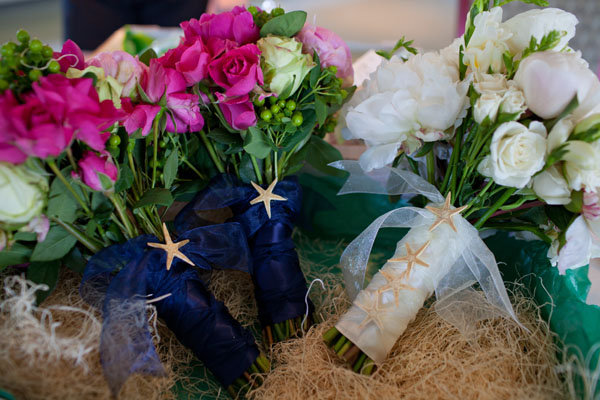 Or maybe clip it in their hairs!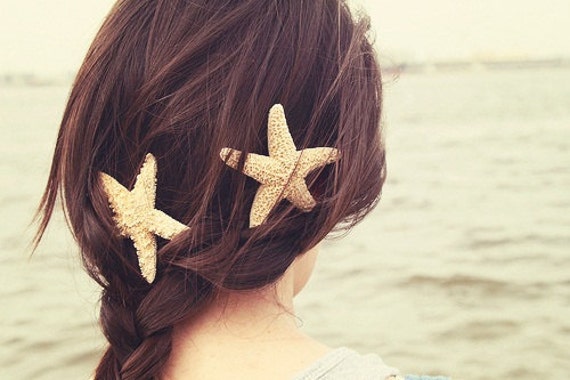 2. For a tranquil wedding go barefoot throughout the whole ceremony.
Not only is this beneficial to everyone, especially to the girls who don't have to walk through the beach sand in distress, it also makes them feel like they are on vacation. The only difference is that everyone is dressed up!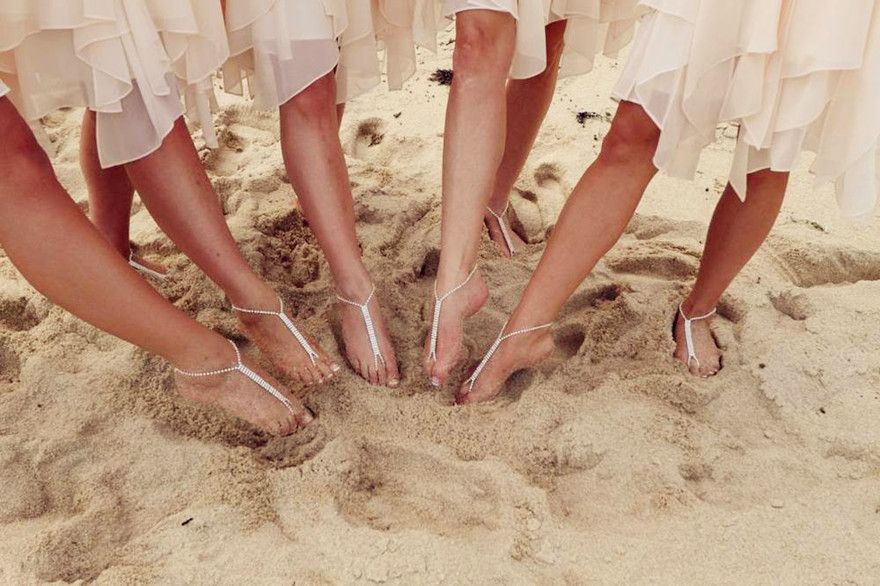 And even if you are barefoot who says you can never dress up your feet? A lot of barefoot sandals are now available in the market ranging from lace types to beaded ones. But the only one for the queen of the ceremony would be the most sparkly of them all!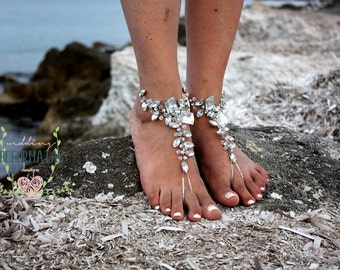 3. To keep things looking stress-free and neat, opt for white wooden chairs.
These never go out of style. You can decorate the aisle sides with long slender leaves and tiny flowers then top each with a starfish. Simple yet still with a pop of greenery for your wedding.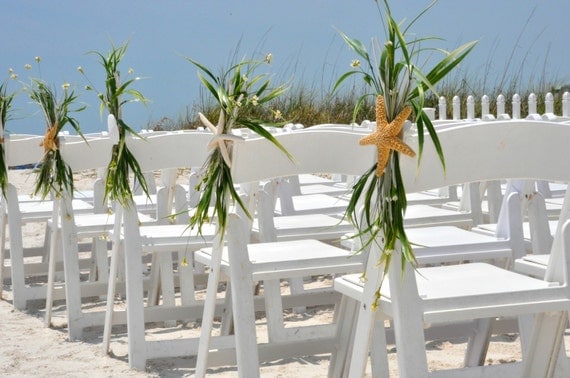 4. Decorate the walkway with shells found just along the shore.
There is no need to buy for seashells to be used to decorate. Instead gather shells found just along the shoreline and place them evenly along the side of the walkway.
5. The centerpiece of Mermaid Beach Wedding ideas is no other than the bride herself.
To achieve the whimsical mermaid-y effect, leave your wavy locks down but go for a light braid that will accentuate your outer mermaid look.
To add more mermaid touch in this Orange County wedding, it is just right that the bride wear a wedding dress with a mermaid bottom with a bit of sparkles on it.
6. Aside from the bride, the ceremony arch should also be the centerpiece in this wedding ceremony.
Opt for a bamboo arch, wrap a white cloth along the top and sides then secure with a light brown colored ribbon. This will be easy to assemble and will not require a lot of manpower to finish. To maintain the Mermaid Beach wedding theme hang a collection of shells that were put together by a string.
7. Not only should you incorporate the Mermaid theme in the ceremony but also in the reception area.
To make use of the view of the sun setting while already in the beach, why not have the reception in the same place? This will reduce the time it takes for everyone to relocate from one location to another.
For the table centerpiece a clear glass container filled with water and shells will look elegant yet simple. As the sun is setting down, you may put floating candles to enhance the dreamy wedding.
8. The perfect wedding cake for this Mermaid Beach wedding will be a white fondant cake filled with starfishes, shells and conches.
A drizzle of pearl-like sweets with varying sizes around the side will create the most mermaid wedding cake ever!
9. To make the wedding more fun for the couple and all the guests, hire an entertainment band to keep the moods of everyone at best.
Look no further! Undercover Live entertainment is here to provide great music! Surely everyone will have an enjoyable experience at your Mermaid Beach Wedding!
CALL US TODAY TO DISCUSS YOUR ENTERTAINMENT (949) 612-7836 OR CONTACT US.